Using Primary Sources to Reveal Failure in Mass Communication History:
Samuel Insull's Failed Radio Networks
By Michael J. Socolow, University of Maine
Teaching the Article: Ideas and Exercises
I first discovered Insull's attempts to build national radio networks while conducting research on CBS and NBC at the Library of American Broadcasting at the University of Maryland.   That Library holds the WENR-KYW Station Collection, with archival materials from two of Chicago's earliest and most important radio stations. I examined materials from that collection in order to learn more about how the early American radio networks built relationships with local affiliated stations around the United States. WENR, in the late 1920s, was owned by the Great Lakes Broadcasting Company, one of the many subsidiary corporations within the famous Insull utilities empire.  It was in the WENR files that I discovered a fascinating report compiled by station employee Paul McCluer in the summer of 1929.  McCluer travelled around the country to interview executives at several important local stations. The purpose of McCluer's trip was explained in a brief preface added to the report a few years later: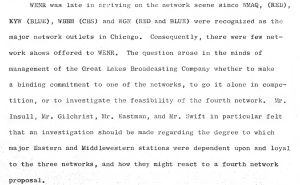 It should be noted that the reason WENR executives were discussing a "fourth network" was because NBC, at the time, operated two different networks – the Red and the Blue Network – and CBS comprised the "third" network.
The report provided details unavailable elsewhere in the historical record. Sensing that any corporation tied to Insull would be more generous than CBS and NBC, local station executives candidly shared their economic data and discussed their unhappiness with their national partners. McCluer discovered that CBS and NBC were exploiting local stations by selling their best time slots (usually in the evening) to national advertisers while offering only minimal payment in return. McCluer's report includes actual revenue figures illustrating the uneven financial arrangement – data that is almost impossible to obtain elsewhere.
For this reason, I called the report "perhaps the most illuminating examination of the early relationship between American networks and local stations." McCluer concluded that local stations would not welcome yet another national entity selling their most valuable commodity – airtime – and that any fourth network opportunity would likely be rejected.   Soon thereafter the stock market collapsed and Insull's corporate empire crumbled. So ended his first attempt to build a national radio network.
The Insull story then took a turn for the dramatic. Because over 600,000 Americans held worthless stock certificates in his companies, Insull's name became synonymous with rapacious capitalism. He fled to Europe in disgrace, only to be returned to the United States to face criminal indictment for fraud and other charges.   After being acquitted by a jury, Insull set out to rebuild his reputation as a business genius.   He turned, once again, to radio broadcasting and the idea of building a new national network. CBS and NBC proved to be two of the most successful companies in terms of revenue and growth during the dismal economic years of the Depression, and it appeared – by 1936 – that there was room on the airwaves for a new competitor.
In 1936, however, Insull lacked sufficient capital to build a network with his own funds. He needed investors. He decided to leverage his celebrity to entice bankers and other financial partners to support his new venture.   Unlike his first attempt, which was largely done in secret, Insull's second attempt left numerous press reports that proved useful as primary sources for my article. Here, for instance, is a typical profile of the new business, published in Radio Mirror magazine: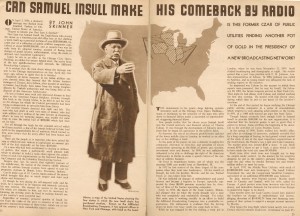 The Samuel Insull Papers, held by the Loyola University Chicago Archives, also contains materials pertaining to Insull's 1936 network endeavor.   Using the on-line finding aide, I was able to locate file 49-3, which holds documents related to the Affiliated Broadcasting Company. Librarians assisted my research by copying the materials, and I was then able to retell the Affiliated story by referencing internal memos, correspondence and other documents in that file. Between the newspaper and magazine coverage and file 49-3, I could assemble a detailed story about the failure of the Affiliated Broadcast Company – a story that generally remained unknown in mass communication history.  Affiliated failed primarily because of a series of problematic personnel decisions – in short, Insull's employees made several serious mistakes, all revealed by the internal memoranda deposited in file 49-3.
Researching the history of failure is never easy. Most failed ventures slip quietly from memory because history favors success. But revisiting failure helps illuminate the complexity of history and deepen our understanding of the past. Because failure often remains unnoted in the historical record, primary source materials are essential to reconstructing such stories. Learning about these unsuccessful ventures teaches us that success is never fully pre-ordained or historically inevitable. Understanding why one radio network survives and another fails can teach us about today's media environment by informing us about the ingredients required to develop successful and innovative business models.
I began this research project with a simple question: why couldn't one of America's richest citizens build his own radio network when broadcasting was new? The primary sources revealed the answers: because in 1929 the local stations that he needed as partners did not welcome a new network, and because in 1936 he hired the wrong people.
Primary Source Exercises:
Exercise 1
Using the on-line databases listed below, locate, identify, and summarize a primary source (or collection of primary sources) that describes Samuel Insull's attempt to build the Affiliated Broadcasting Company in 1936. Use the Search Function and browse materials in newspapers and such periodicals as Broadcasting and Variety located at the following websites:
http://www.americanradiohistory.com/Broadcasting_Individual_Issues_Guide.htm
http://mediahistoryproject.org/
https://news.google.com/newspapers
How do primary sources tell stories? What's missing from these primary sources that other kinds of research might reveal?
Exercise 2
Can you find an example, in mass media history, of a comparable failed venture to Insull's Affiliated Broadcasting Company?   How would a scholar begin searching for examples of failure in the development of an early film production corporation, a cable television channel, or other analogous examples?
Exercise 3
Many colleges and university libraries have special collections and archival departments.   Some of these contain "lost" or largely unknown materials about mass media history. For example, at the University of Maine (where I teach), Fogler Library holds the papers of Floyd Gibbons, one of America's first network radio newscasters.  The papers have rarely been used for research, yet they offer important information about the relationships between advertisers, networks, and journalists at the dawn of the broadcasting age. Ask a librarian at your school if the library possesses materials related to mass media history, and, if such collections are available, spend a few hours researching within one collection. Write a summary of the primary source materials, describe the story they tell, and explain why they are valuable, illustrative, and historical.
Critical & Analytical Exercises:
Exercise 1
Describe the obstacles and difficulties facing scholars attempting to analyze corporate or technological failure. Why do we know so much more about success than failure, and how might this bias both our inquiry and conclusions about the past? Write an essay that argues for the importance of understanding failure in history.
Exercise 2
How can we use the history of failure to understand our contemporary media environment? In "'A Nation-wide Chain within 60 Days': Radio Network Failure in Early American Broadcasting," we learn that one of America's top broadcasting celebrities, one of America's richest citizens, and an industry pioneer all failed to develop successful national broadcasting companies. Do you think the same sort of obstacles exist for such entrepreneurs today? Why or why not?