Spring 2016 Issue
The current issue features Ed Alwood's account of how Anne Bauer, an American freelance journalist, successfully fought a decision by the State Department to revoke her passport on the grounds she was allegedly a Communist sympathizer. Thomas Aiello writes about the controversial editor Davis Lee, whose career at black newspapers spanned a half-century. Daniel Haygood explores the advertising philosophies and personal relationship of Rosser Reeves and David Ogilvy. Mark Bernhardt examines the illustrations the New York Sun and New York Herald published during the Mexican-American War and how the rival newspapers linked conquest of Mexican territory with masculine ideals.
Teaching Our Journal
With each issue of American Journalism, we feature teaching materials for a particular article and provide free online access to the article (through Taylor & Francis, the publisher of American Journalism).
The teaching materials provide topical overviews and various exercises for teaching the article in either undergraduate or graduate classes. The author of the article creates the teaching exercises and provides links to relevant primary and secondary sources.
We hope these teaching materials and the historical studies they reference will enrich your media history courses and, most importantly, your students' learning. And we hope you will let us know how you use American Journalism in your classrooms.
"Boys are Running off to the Wars by Scores": Promoting Masculinity and Conquest in the Coverage of the Mexican-American War
Volume 33, Number 2, 2016
By Mark Bernhardt, Jackson State University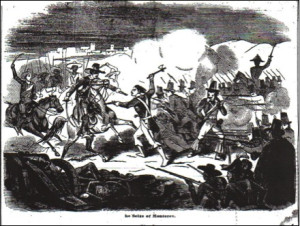 This article examines the manner in which Moses Yale Beach, publisher of the New York Sun, and James Gordon Bennett, publisher of the New York Herald, promoted the Mexican-American War and US expansionism through illustrations that linked conquest with the fulfillment of certain masculine ideals. Specifically, it analyzes their support of different objectives for territorial conquest and how that influenced the way each presented the war. The differences in presentation made war and the acquisition of territory appear more appealing either to men who embraced martial manhood or those who identified with restrained manhood. The following exercises ask students to consider the role pictures, in various forms, have played in promoting war, either for the purpose of extending the United States' borders or for fulfilling other objectives, and how ideas about gender and race can influence our perceptions of who the United States is fighting and why. Read more.